Tea has been consumed for several thousand years in Japan and its overall consumption all over the world is also gradually increasing year by year. A basic fact about tea production is that all tea is produced from a plant called 'Camellia Sinensis'. Of course, there are regional variations which lead to the production of different varieties of teas. Japan is one Asian country that is known for tea production. The Japanese are known for their tradition of tea drinking and the quality of tea production in this region is a proof of their impeccable taste in tea. Japan is particularly known for its varieties of green tea.
Why loose tea leaves
When teas are bagged, the process involves breaking up of the leaves due to which oils might evaporate. This would in turn affect the tea flavor making it dull and tasteless.
Some popular varieties of loose tea leaves in Japan
Matcha: This tea variety is said to rich in powerful anti-aging oxidants apart from being an energy booster. When you ingest the whole leaf after brewing it, your body gets 100 per cent of its nutrients. Matcha is also known for its mood enhancing qualities.
Sencha: The word 'Sencha' means 'simmered tea'. Sencha is specifically a green tea of Japan made without grinding of the tea leaves. It uses dried leaves for brewing.
Konacha: Konacha is generally labeled as a low grade tea but is said to complement certain foods like Sushi pretty well. It consists of residual tea buds, tea dust and leaves that are left behind after the processing of Sencha and gyokuro.
Houjicha: This is a Japanese green tea made by roasting Bancha tea leaves. It has a characteristic toasty nutty flavor. It can be a suitable accompaniment to both savory and sweet food.
Genmaicha: It is also known as the green tea with roasted brown rice. Genmai grains are used to produce this green tea which has a yellowish color and distinct flavor.
Kocha: In Japanese, 'Kocha' means 'Red Tea' which is characteristic of the reddish-brown color of this particular tea. Kocha is popularly served at Western style cafes and eateries.
Jasmine-cha: It is also referred to as the tea with jasmine flowers. It is popularly consumed in Okinawa and made by combining jasmine flowers with green tea.
About this Article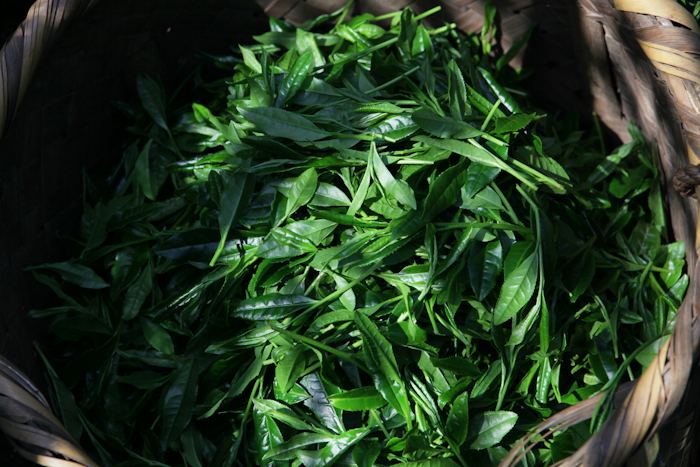 Title
Loose Tea Leaf Made in Japan
Description
Loose tea leaves are generally preferred over bagged ones for the simple reason that they are said to retain chemicals and essential oils responsible for the wonderful flavor of the tea.
Author